Please be aware that the USFS will be conducting thinning operations at the Monument Preserve as a form of fire mitigation. These operations are a part of the larger Upper Monument Creek Landscape Restoration Project to restore forests in the Rampart Range area. The fuel treatment project will reduce the risk of wildfire and create a more complex vegetation structure in the area. Starting in mid-May (contractors to be in the area this Wednesday, May 11), for approximately six weeks, the USFS will begin Phase 1 of their thinning operations. Other phases are planned for Winter 2023 and Winter 2024.
For the safety of the public during operations, the USFS has informed us that the area of Phase 1 will be closed to use, during the work period. A variety of large equipment and hand tools will be used to thin the vegetation, and hazardous conditions may exist in the treatment area. The closure is needed to ensure the safety of the public and the operators.
The USFS has informed FOMP that while there may be damage to some trails due to equipment used in the mitigation process and accumulation of slash, there is no intent to destroy or close trails associated with this project. For additional information about the treatments or area closure, please see attached information from the USFS, or contact Acting District Ranger Jennifer DeWoody at jennifer.dewoody@usda.gov or (719) 477-4202.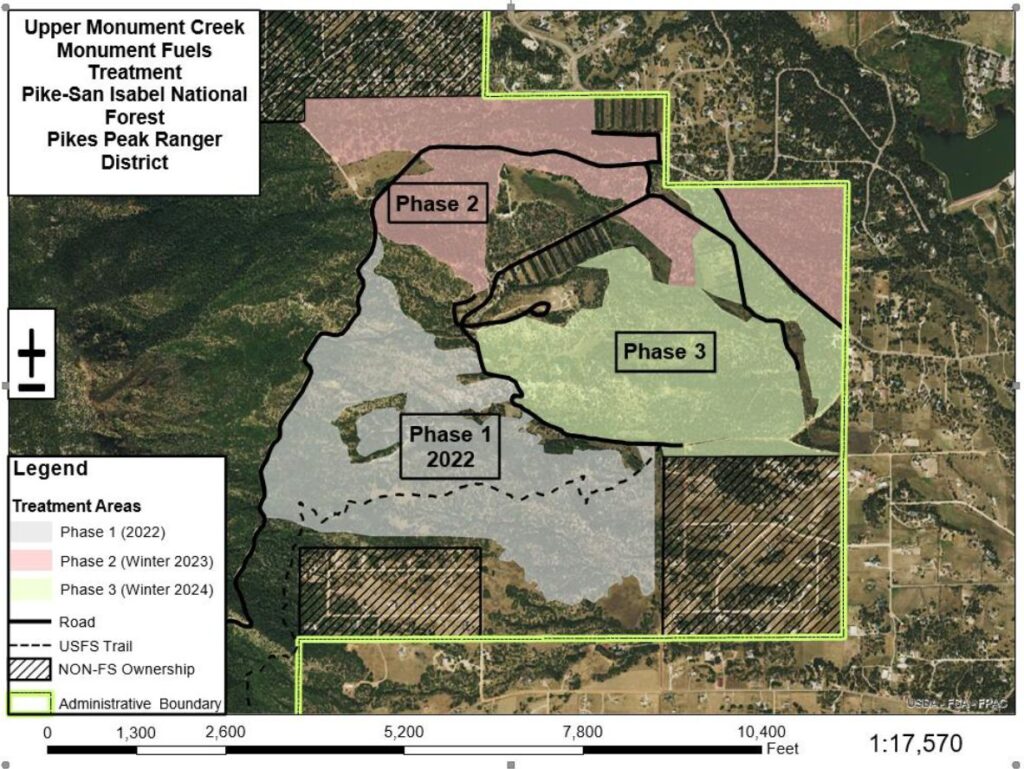 Click here to refer to an official USFS document that was sent to FOMP.