Monthly Trail Work, Fires, Openings, Closings
It has been a chaotic couple of weeks in the area and we have up to date information on what is open, what is closed, maps, orders, and volunteer opportunities!1. Open or Closed?
At the top of everyone's mind … what is open and what is closed?
The good news, the Preserve is OPEN! Despite some signage to the contrary it is open. We've worked witht the USFS to correct the signage and post maps. You do need to steer clear of Mt. Herman Rd – the machinery working on the road can throw rocks and debris 200+ feet – so stay away from the road. USFS 715 "Stoopid Trail" is closed where it turns SW in the SQ corner of the preserve. We have placed a sign there – that leads you into the closure – stay out or risk a ticket.
The bad news, Mt. Herman Rd and everthing West of Red Rocks Rd to Palmer Lake and then West on 322 to Rampart Range Rd is CLOSED. There was a new order in place as of Friday closing this section.
Why: So that the Forest Service can finish cleaning up the fire line on Mt. Herman Road – they are using masticulating machines and feller bunchers and they are also removing all the logs from the Mt. Herman Rd fire line. This will continue for several more days at the very least, maybe a couple of weeks. We hope that it will re-open after that but we have no firm date or commitment from the USFS yet. If we get one we will let you know.
Please have a look at this zoomed in map of our area from the latest USFS closure order.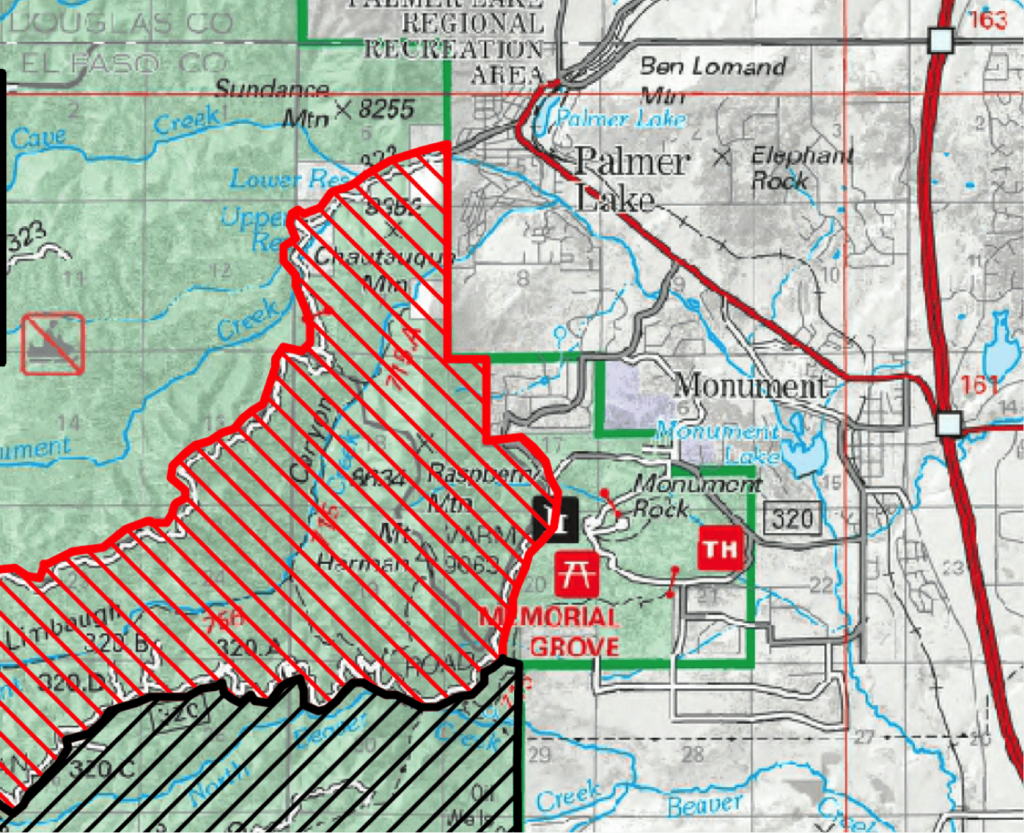 Full map and closure order (Adobe PDF Reder required), these are somewhat large, be patient:
Waldo Canyon Fire Area Closure Order 12-08
Waldo North Closure REVISED map
A list of other regional openings and closings is at the end of this email/post.
2. Fire
We still have high fire danger so be aware. The recent rains have not changed the fire danger.
3. Shooting Range Update
After FOMP volunteers cleaned up over 60 (yes 60!) bags of trash and debris from illegal shooting on Mt. Herman Rd the FS then cleaned up just as much 2 days later and closed parking and roped off these areas. There was approximately 2 acres total sutdown to shooting in areas that are not safe to shoot in the first place. Social ranges that were on the top of ridgelines with not backstop were closed down. Much, muc more remains to be done to make Mt. Herman Rd a safe place for other recreational users as some of the remaining social ranges have been utterly destroyed and shooters are shooting uphill with stray and ricochet bullets landing in Limbaugh Canyon still as well as on the Mt. Herman hiking trail. We continue to work with the USFS to try and make the Mt. Herman corrider a safe place again. The illegal shooting is just that – illegal and unsafe. It is in areas where shooting is allowed unfortunately many (and it appears a majority) of the recreational shooters on Mt. Herman Rd choose not to follow the rules of the USFS and are destroying trees and other resources as well as creating very dangerous situations for themselves and others. FOMP's BOD continues to work with the USFS for good solutions for all parties including recreational shooters.
4. Monthly Trail Work Session Information
Tuesday July 10 at 6:00 PM
FOMP is pleased to be holding a volunteer trail work and tree trimming work session!
FOMP and USFS provide all necessary tools. Volunteers should wear appropriate clothing for performing outdoor landscaping type of work. Volunteers should bring leather gloves, a personal water supply, eye protection, sunscreen, and bug repellent. We meet rain or shine unless there is lightning active in the area. In the event that you are joining us late we try to leave a note at the trail head parking lot or you can call Jon Nordby (719.640.1347) or Chris Tirpak (719.439.8865) to find out where in the Preserve we are working that evening.
We make every effort to accommodate volunteer preferences and abilities at each event. Generally we perform activities such as water bar building or renovation, trail renovation, maintenance, and trimming, etc. So, pretty much everything from trimming back scrub oak or digging lots of dirt to moving boulders. We assign duties based on interest and capabilities. Kids are welcome to join their parents; however, we do ask that you evaluate whether this is an appropriate activity for your child or not.
Meet at the main trailhead parking lot at 6:00PM! (map: http://bit.ly/FOMPMeetingSpot)
Thanks and we hope to see you out there!
FOMP==== List of Known Open / Closed Regional Trails ====
Thanks to David Wagner for putting this list together – we will try and update it as he provides updates and eventually make it a seperate post on www.fomp.org
Open:
Colorado Spring Parks and Open Spaces
Douglas County Parks and Open Spaces
Barr Trail
Pikes Peak Highways Trails
State Parks
El Paso County Parks
Castle Rock Parks
updated: Old Stage Road and Gold Camp Road are now open
Falcon Trail (Air Force Academy) with military ID update: The Falcon Trail (Air Force Academy) is only under FPCON ALPHA, so only drivers license is required — update #2: Falcon Trail may be only partially open unless you have a military ID – please verify before you go!
Trail Closures due to the Waldo Canyon Fire:
Order 12-10 and Municipality Rulings
High Arson and Fire Risk & Limited Resources Available
48,000 acres (75 square miles) of forest service land in the closure area
14,270 acres of forest service land burned (30% of closure area)
NOTE: USFS system trails listed below have there number after them
Some private and social trails are listed
USAFA : Eagle Peak, Stanley Canyon 707, West Monument Creek 713
Blodgett Peak Open Space & Blodgett Peak
Oak Valley trails off Coldwater Dr, Colo Spgs (?)
Palmer Lakes via Balanced Rock Rd 322 from Old Carriage Rd (per PL Water Dept.)
Monument Preserve, partial closure, Monument 715, I-A Fitness 718
Mt. Herman 716
Farish (4 trails)
Various Forest Service Roads (including portion of Rampart Range Rd 300)
Williams Canyon (Williams Canyon Project)
Waldo Canyon 640
Pyramid Mountain Estates (Cascade)
Green Mountain Falls trail system (per Lorrie Worthey, mayor)
Kings Crown Road area trails (Woodland Park)
Rainbow Gulch Rd, Nichols 709, Reservoir 700
Ormes Peak